Brake Repair Services Barrington, IL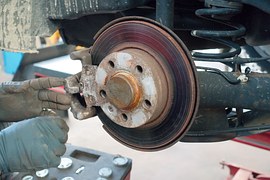 Is that annoying squealing sound from your brakes driving you crazy? Sick of feeling like everyone in the parking lot is staring at you because of the sound? Are you hearing a grinding noise once you come to a complete stop? Those sounds are your brakes yelling at you, letting you know that it is time to get them repaired or replaced.
At Kranz Service Inc., We provide the highest quality brake repair service and the most affordable rates in the Northwestern Suburbs surrounding Barrington, Illinois. When it comes to brakes, we have you covered. We provide multi-point inspections that cover everything, including; pads, rotors, calipers, & every other part of the brake system on your vehicle. We offer same-day brake inspections, brake replacements, and repairs. 
Did You Know – Brakes Edition
Did you know that modern automotive Brakes last, on average, for about 30,000-70,000 miles? Now, of course the lifespan of brakes can depend on a wide variety of variables such as; How hard you ride your brakes when stopping, what type of vehicle you are driving, how often you use the brakes during short trips, and more. When you are getting your brakes repaired or replaced with Kranz, we work with you, to make you know what your options are, and ways to get the most mileage out of them. 
5.0 STAR RATING 5/7/2022
Excellent service and workmanship!

Owner operated and have never been disappointed with any services performed!

Tom, Ken, and Quinn will never disappoint!

I TOTALLY trust Tom and his expert staff with my car!

George H.

Barrington, IL
SERVICE AVAILABLE
Call Or Stop By our Shop Anytime During Business Hours and We Will Do Our Best to Service You Promptly.

847-381-5585

111 S. Lageschulte St.

Barrington, IL. 60010

Business Hours: Monday – Friday 7:30 am to 5:30 pm
5.0 STAR RATING
This is a great shop and they are super knowledgeable. Tom Kranz is the owner and a super guy. He's got a great team and they get the job done fast and correct the first time. If you live in the Barrington area and your vehicle needs work, I highly recommend using Kranz Automotive.

Michael D.

Palatine, IL
5.0 STAR RATING
Great service station! Trust them fully with care, prices and overall quality. Tom is great, trustworthy guy and I've been going to him for years (I find trouble trusting a automotive shop as a woman driver). Quick service as well, thanks Kranz Auto!

Kassandra R.

Elk Grove Village, IL
5.0 STAR RATING
Always helps us with a smile in an emergency – once again saved us with an honest diagnosis and quick service…been our 'go-to mechanic' for many years and wouldn't go anywhere else. THANK YOU!!

Shirley E.

Barrington, IL